Sugar Cookie Latte at Home!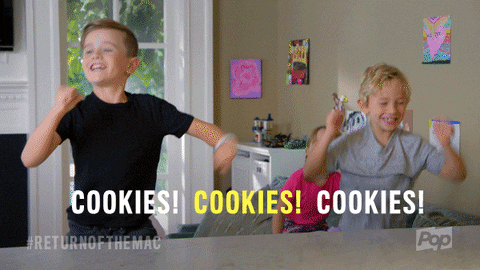 Good Monday, amazing human beings!
My birthday is in December. This year, I decided to take a day off of teaching high schoolers to treat myself. It started off with me going to Starbucks at 6:30 am for their Iced Sugar Cookie Latte. I even downloaded the Starbucks app to go get this thing. I don't typically go to chain coffee stores - I think they are very pricey and often don't taste too well (I also don't know how to really order... which doesn't help my case). Anyways, I was able to pick up my drink and Birthday Cake Cake Pop (I plan on making these on my own very soon). After taking a sip of my drink, I noticed it did not taste very sugar cookie-ee. I was very disappointed.
I ended up going home and adding my own concoction of flavors together, adding the whipped cream that the store forgot to add, which was included on the order label, and adding white chocolate syrup on top. Overall, I was not pleased with my experience. When I opened the Ninja Hot and Cold Brew System, one of my first thoughts was to recreate the Sugar Cookie Latte.
Before I received my fancy coffee maker, I was sick of coffee! Having the same hot-brewed coffee with flavored creamer day in and day out got very old. I decided to have tea rather than coffee after a while. To have tea, I ordered White Chocolate powder and made my own simple syrups, so, luckily, when I had to make my own syrups for specialty coffee, I have already had some experience with doing so! For Sugar Cookie Syrup, I was well aware that I would need some "unusual" types of extracts to achieve the flavor I wanted. Weirdly enough, I had the exact extracts from when I was making homemade bath bombs - funny how the world works sometimes.
I did have to look up a recipe for the syrup, however. I am not a flavor connoisseur - yet! When doing research, I came across the website "We Are Not Martha - But can't we try?" I was very intrigued by the name! I decided to use their Sugar Cookie Syrup recipe. I did end up having to use more butter extract than what the recipe called for because it tasted too much like almond in my opinion. I liked the recipe so much that I made another batch to use throughout the week as a quick syrup for work! This syrup will definitely be a commonality in this household's coffee bar from here on out.
After I made the syrup, I proceeded with making the coffee drink itself:
Iced Sugar Cookie Latte

🍪
Brew: over ice
Size: XL single serving (20-ounce cup)
Ingredients
Directions
Prepare the Sugar Cookie Syrup in advance and allow it to cool before making the coffee

Place ground coffee in brew reservoir

Put ice into the cup and place the cup under the brew reservoir

Select XL Cup and Over-Ice on the coffee maker

Once the coffee has fully brewed, add in sugar cookie syrup; stir

Add in Silk Almond Milk; stir

Top with whipped cream and sprinkles
Review
This recipe was much better than the Starbucks version that I mentioned earlier. I was able to actually taste the sugar cookie that I was hoping for! I actually like this recipe so much, especially with how easy it is to do, that I often make it before work in the mornings! This recipe is also very easy to do hot. I think we all enjoy a versatile coffee that tastes good! If any of you have any suggestions on how to make this even better, let me know!
I give this overall recipe 4 stars. ⭐⭐⭐⭐